5 BEST CHAIRS FOR WORK FROM HOME TO INCREASE YOUR PRODUCTIVITY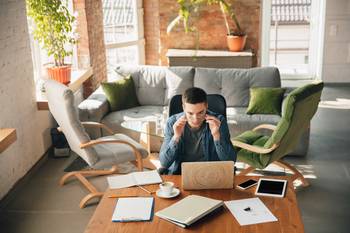 5 Best Chairs for Work from Home to increase your productivity
Work from Home is becoming quite normal these days. The pandemic has changed the work culture and style so much. People are trying to utilise this so effectively. They could save time of commute and increase work efficiency. Both employees and employers could enjoy the outcome from this.
If you have just made a shift from work from office to work from home, or planning to shift, you should consider building a nice workspace on your own which will increase your productivity and not harm your health.
Most of the time in WFH, one might be sitting on a chair for a long time. Choosing the best chairs which do not cause back pain and give comfort is really an important decision to make.
Here are some of the best chairs that suit your work from home space.
POWER UP WITH YOUR PERSONALITY with new High Back Chairs - FH D12
An ergonomic chair we use for work from home should give support to our body and enable us to increase productivity. FH D12 High Back chair from Fetch is one of the perfect choices for a work from home chair. It has super comfortable mesh, and hand rest gives extreme support and mindset to power up your personality. The adjustable armrest and headrest and synchro mechanism in this chair allow the user to use this chair with utmost comfort.
DISCOVER THE SUBLIME RELAXING with new High Back Chairs - FH 4002
FH 4002 High Back chairs are designed for tall people who need to rest their head comfortably. It is a comfortable office sitting with a significant back supporting system. The seat is upholstered with PU foam and has imported mesh fabrics.
This chair is designed for comfort for work from home purposes. It covers our body and head in it and allows us to work relaxed.
THE SUPPORTIVE STAR Medium Back Chairs - FM 5038
A long amount of time in work has always been stressful for anyone. Long hours without proper back support can be dangerous. Fetch's new Medium Back Chair, The Supportive Star, FM 5038 ensures comfort and support to your mind and body.
The Central tilt mechanism helps in easy adjustments of the chair. The class 4 gas spring provides great support load. The design of the chair is mainly focused on lumbar support and it ensures the user does not suffer.
SIMPLY VIGOROUS High Back Chairs - FH 4048
FH 4048 High Back chair is specially designed to use as work from home chair as it strengthen your back. The seat is upholstered with moulded PU foam and has mesh imported fabrics. Its adjustable headrest and lumbar support keep your spine aligned and help to keep a healthy lifestyle.
BACK BEFITTING DESIGN High Back Chairs - FH 4028
FH 4028 is designed to provide the right support for back. It is one the best work from home chairs that provides support for the neck and it gives ample support from all sides of your back.
Building a nice workspace at home is essential these days. As the employees don't interact with their office room any more, it is essential to keep the professionalism in them. For the candidates who work from home, a smart and healthy workspace is beneficial. We, Fetch Chairs, have a wide variety of office chairs in all types of categories with options for saving your money and health.
FAQ
Which is the best chair for work from home?
The best chairs for work from home are the chairs that have a lumbar support that supports our back for hours of time straight, and have adjustable handrest and headrest for our comfort with an ergonomic design which is important to the comfort of the user.
What are the best chairs to work from home for long hours?
A chair which needs to be used for long hours should be strong, and give support to our back and neck. These are some of the best from Fetch:
Fetch FH D12 High back chairs

Fetch FH 4002 High Back Chairs

Fetch FM 5038 Medium Back Chairs

Fetch FH 4048 High Back Chairs

Fetch FH 4028 High Back Chairs
Which is the best work from home Chairs in Kerala?
FH D12 High Back chair from Fetch is one of the best chairs to work from home in Kerala.
What is the use of ergonomic chairs to work from home?
Ergonomic chairs increase the productivity of the user by supporting spine, neck and head. It also allows the user to adjust the chair according to their comfort level. It is designed to increase the comfort of the user without compromising their health.