BEST CHAIR FOR LOWER BACK AND HIP PAIN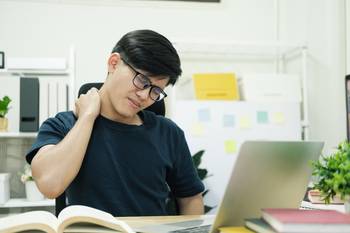 Best chair for lower back and hip pain
The work culture nowadays demands a lot of time in front of the screen. Sitting for a long time is definitely not good for our health. It may cause back pain and hip pain. Sitting in the wrong posture for a long time affects your health badly. Choosing a right ergonomic chair might be a good solution for this problem.
Ergonomic chairs are designed for maintaining good posture while you are working. It has many features like good lumbar support, adjustable height, reclined backrest, soft seat etc. These features are important in maintaining good health and reducing the pain in the lower back and hip.
Here, we have listed down some of the best ergonomic chairs that Fetch designed especially for lower back and hip pain.
These High Back Ergonomic Chairs are specially designed for professionals who need to sit and work for a long time. It provides great lumbar support for the users. The adjustable headrest and adjustable height allow the user to adjust the sitting position as per their comfort.
The main attraction of these chairs is the design. The stylish and class designs with the colours black and white give a classy feeling to any workspace. It provides a great lumbar support that ensures support for lower back and hip. These high back chairs include adjustable headrest and adjustable seat depth for comfortable seating.
These Mid Back Ergonomic Chairs are specially designed based on the supportive nature they provide. The class 4 gas spring in these chairs provides great support load. Since it is a mid back chair, it lacks the headrest feature. But it ensures a good lumbar support and helps in reducing lower back and hip pain. The new centre tilt mechanism in them is a great advantage for easy adjustments.
FM 5041 comes under the Mid Back series from Fetch. These ergonomic chairs come with a nylon base with a castor which helps in moving the chair easily and safely. The push back mechanism in these chairs helps users to maintain a healthy posture that helps in reducing the pain due to sitting for a long time.
This classy chair features seat height adjustments and lumbar support for custom comfort. The mesh fabric, tapered armrests and nylon base with castors makes the user more comfortable. These provide the right support for your spine. Its open mesh design allows air ventilation while its ergonomic backrest offers lumbar support to make long hours of sitting comfortable.
These are ergonomically designed leather chair by Fetch. The leather seat is made of superior quality synthetic leather. The high density seat and back are upholstered with these synthetic leather. The class 4 gas spring on the chair ensures the chair moves down smoothly instead of in a single go when sitting. The curvy ergonomic design ensures the user is comfortable by reducing the lower back and hip pain.
This perfectly designed Ergonomic Low Back Chair is made of nylon mesh that allows effective air circulation. Its PU foam upholstered seat and curved lumbar support back in mesh provide utmost comfort to the user. The class 4 gas spring on the chair ensures the chair moves down smoothly instead of in a single go when sitting. The mesh seat is made of superior quality sponge that prevents sweating and keeps you cool even while seated for hours.
How to Choose the Right Chair for Lower Back and Hip Pain?
Choosing the right ergonomic chair may be a bit confusing. There are some factors to keep in mind before choosing the right ergonomic chair for reducing the pain in lower back and hip.
Lumbar support :
The lumbar support is important in ergonomic chairs. Selecting a chair that features adjustable lumbar support that aligns with the back correctly can protect from back and hip pain.
Seat height :
An ergonomic chair's height should be adjustable as per convenience of the user. Maintaining a good posture at a healthy height is important in reducing back and hip pain.
Backrest :
The design of the backrest is important in maintaining healthy posture for the user.
Seat material :
The material of the seat is an important feature in ergonomic chairs. Choosing the comfortable and skin-friendly seat material helps the user.
Size :
Seat size is important in choosing the right chair. A wide sitting area gives more comfort for the user.