5 BENEFITS OF USING MESH OFFICE CHAIRS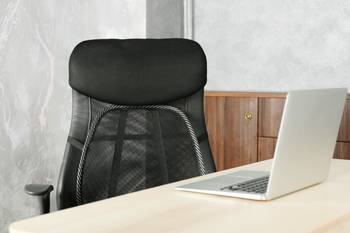 5 Benefits of Using Mesh office chairs
Choosing a suitable office chair for the workspace has become an integral part in today's work culture. There are a lot of options now available in the market. Mesh is an important and popular type of material used in office chair manufacturing nowadays.
What are the benefits of mesh chairs?
One of the important benefits a mesh office chair yields is the ventilation property in them. For users who need to sit and work for long hours, this property really helps. The ventilation property in mesh chairs ensures the airflow. It doesn't allow the heat to get trapped. This can get rid of the sweating of the user and ensures comfort.
Mesh chairs are much lighter in weight compared to other types of chairs. These types of chairs have inherently minimalistic design and construction which make them lightweight. This makes it easy to lift them and move around the places of the workspace.
Mesh chairs are designed ergonomically, so that they give the user a good level of support for spine and body. An ergonomic chair improves posture and helps reduce pain and ache due to long hour sitting posture. Many ergonomic mesh chairs offer adjustments for the comfort of the user.
The maintenance of mesh fabric office chairs is comparatively easier than other chairs. Any spills or stains can be wiped out very easily just by using a wet cloth.
With the increasing popularity of mesh chairs, the designers have been taking care of the style of chairs along with comfort. With their smart upholstery combined with moulded plastic frame, it looks great with the fellow furniture in the office and makes the office more attractive.
Even though these chairs have a number of benefits, they also have some drawbacks.
Disadvantages of Mesh Chairs
Less Durability and comfort
When compared to other types of chairs like leather and fabric, mesh chairs are generally cheaper than others. That also implies less quality than others. Soft meshes retain body curves but start dangling quickly. Firm meshes, on the other hand, may feel too uncomfortable.
FAQ
Why are mesh chairs so popular?
Mesh chairs are popular because they are cheaper and more stylish than other types of chairs, which are made of leather or fabric. Also, mesh chairs are ergonomic and healthier.
Is mesh good for the back?
Mesh chairs ensure the airflow in the back, They do not allow the heat to get trapped. This ensures the comfort and hence mesh does no harm for the back.
What are the popular mesh office chairs from Fetch?
Fetch has a wide range of office chairs made from mesh. Some of the popular ones are;
FH 4002 High Back chair series
FH 4048 High Back Chair series
How do you maintain a mesh chair?
Mesh chairs are easily maintainable compared with other types due to the lightweight, and fabric material. It can be cleaned easily just with a wet cloth normally. The lightweight chair has made it much easier to carry and handle in the office.